Hot Stamping Designs on Containers & Closures
ABOUT hot Stamping (Heat Transfer Printing)
The hot stamping printing method begins with a design (logo, text, and/or imagery) that is engraved onto a metal or silicone rubber surface referred to as the "hot stamping die" in the printing industry. Next, a foil color is selected, the most popular being metallics. Although there are many foil colors to pick from, the hot stamping method generally works best with only one color in the design.
On the hot foil stamping machine, the hot stamping die is forced against the container or closure with the foil sandwiched between them. The combination of heat and force binds the design to the container or closure. The use of "dry-ink", makes this a more environmentally friendly process.
"Foiling creates
an unique
reflective,
chrome-like finish
unlike any other."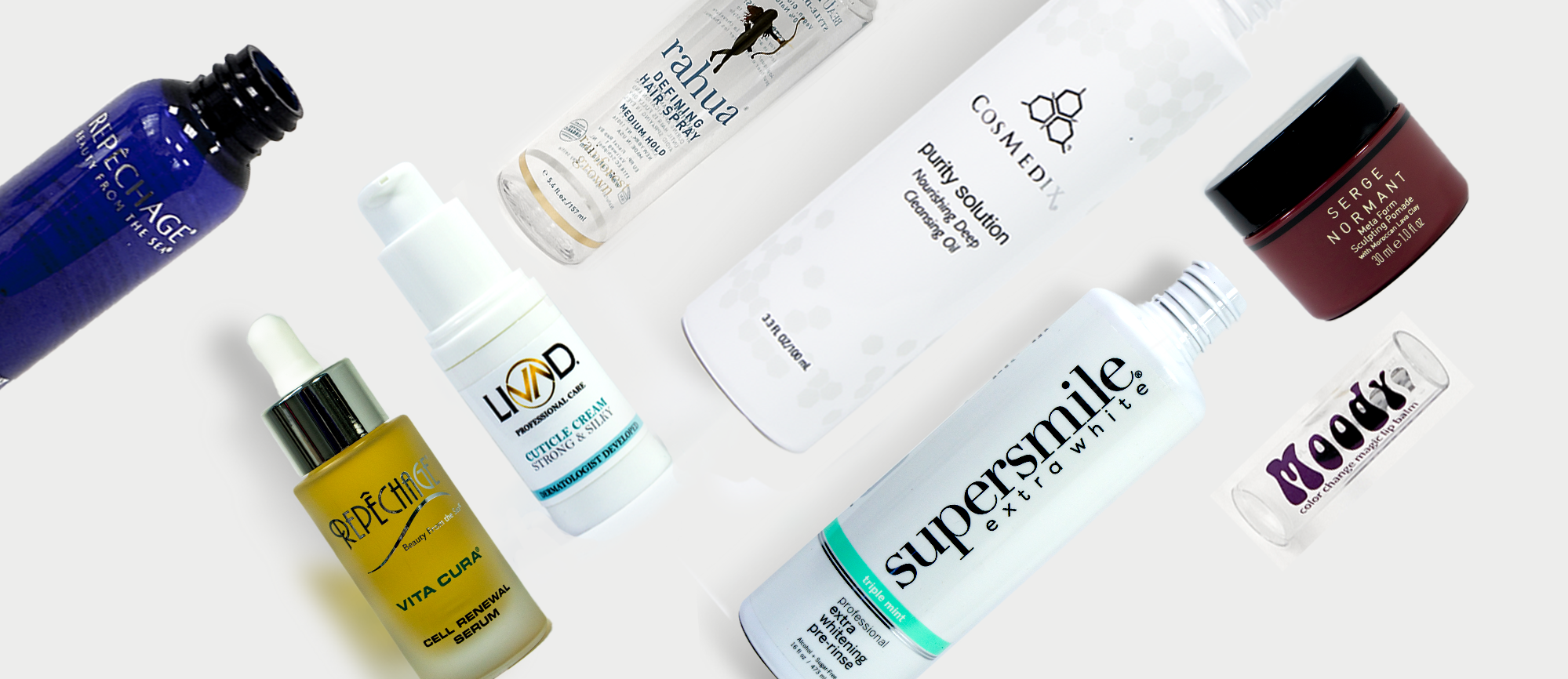 Sample Hot Stamping Design Projects
Gold Stamp & Gold Foil Printing
Gold foiling is one of the most popular printing methods because it adds a luxurious metallic look to containers. The high sheen created with gold stamping and gold foiling increases shelf appeal for consumer goods across a range of industries including cosmetics/beauty, beverages and other household consumables. High-end luxury brands often opt for this type of printing for their containers.
Silver Foiling & Metallic Foil Stamping
In addition to gold stamping, there are a range of metallic color foils to choose from including silver, bronze, copper and more. (Custom metallic colors can be special ordered.) Silver and metallic foils can be incorporated for clients who want to achieve a distinctive, contemporary look for their package designs. Silver foiling adds a cool, metallic sheen that is perfect for monochrome, black and white, or minimalistic design, while a specialty metallic foil can enhance the particular aesthetic of a brand.
Pigment & Color Foils
Colors foils (otherwise known as pigment foils) are a great choice for brands who are looking for pure color without the metallic effect. Color foils come in a huge range of colors and can be printed with a glossy or matte finish. Color foils are sheets of pre-dried ink combined with an adhesive backing and release coat. The color foils are applied to containers with the same hot stamp application process as metallic foils. Regardless of the type of foil, hot stamping creates the best designs on containers with flat surfaces such as plastic and metal bottles, jars and tubes.
Holographic Foil & Special Effect Foil Printing
Once popularized in the 1970s, holographic foil is experiencing a revival in 2019, especially in the cosmetics industry. Holographic foils are created by transferring a hologram image onto unique foils. Holographic foil traditionally reflects the full rainbow spectrum, though dual-tone holographic foils have gained popularity. The trend in holographic printing creates a dramatic "high-tech", iridescent, futuristic effect to branded containers.
In addition, there are new specialty foils available with unique patterns and images. More companies looking to differentiate their brands have started incorporating marbles, woodgrains, leathers and pearl foils. The application and printing process for these special effects remain the same. It's the design of the hot stamping die that adds the distinctive textures and looks. For example, to create a marble look, the veins are foil stamped onto a surfaces, whereas for a wood look, the woodgrain lines are designed into the stamping die.
Decorated Foil for Pharmaceutical Containers
The pharmaceutical industry is incorporating more and more decorated foil into bottle design and production. Branded foil can help convey the brand, scientific name, and even the volume of the medicine. Aluminium foil printed with custom designs are often used as a lidding seal for push-through packaging for pharmaceutical tablets, capsules or pills. Aluminum foil is preferred in the pharmaceutical industry for its effectiveness in creating a barrier for humidity, gas and light. Coupled with its temperature stability and bacterial-resistance properties, custom-printed foil is rapidly gaining popularity in the pharmaceutical industry.
Gold/Metallic Foiling vs Metallic Screen Printing
Metallic foiling creates a reflective, chrome-like finish that cannot be replicated with any other process. However, metallic screen printing can achieve a metallic look with a high sheen at more cost-effective pricing, especially for large production runs. With both gold foiling and metallic screen printing, there are setup costs involved. Gold foiling involves creating a die, while screen printing requires designing a custom screen. Metallic foiling costs are calculated by the size of the design and the quantity. With screen printing, the costs are driven by the quantity of your production run. Speak to one of our team members to get a personalized project recommendations.